New Product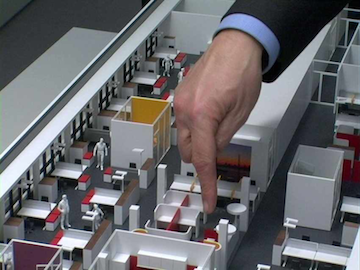 New Product (2012) by Harun Farocki
Screening and discussion with Nina Montmann, Mark Fisher and Andrea Phillips
2pm, 29 November, Room 5, Studio B, Barriedale Buildings, Goldsmiths, University of London.

Over the period of one year Harun Farocki joined the meetings of the Quickborner Team, a business consultancy in Hamburg, as they developed a new consultancy product. The QT specialises in organisational building planning and property management (meaning the design of workspaces, offices and social zones) with the aim of optimising business processes and organisational structures. For the period of one year Farocki filmed the QT's internal meetings as well as meetings with clients.
QT advises businesses to grant employees greater independence, reduce compulsory attendance and develop more flexible workspace. Based on their own experiences and parallel to current changes in corporate work flows, QT is expanding this strategy and planning to become active in the fields of 'personnel development' and 'corporate culture.' These plans are the subject of the meetings that Farocki documents in his film, which was made in close collaboration with QT employees. The film focuses on the practice of future forecasting in commercial consultation at a time of upheaval, wherein consultancy is itself examining the procedures of decision-making that constitute corporate branding.
A New Product was commissioned by Nina Montmann, curator of New Patrons in Hamburg, and premiered at the Deichtorhallen in Hamburg, sparking a wide discussion of neoliberal working conditions in the German media.
The screening will be followed by a conversation between Nina Montmann, curator of A New Product and Professor of Art Theory and the History of Ideas at the Royal Institute of Art in Stockholm, Mark Fisher, writer and theorist, and Andrea Phillips, Director of Research Programmes in the Department of Art, Goldsmiths.