By the three rings of banillinyon (the initiation of a young mage into the seven spheres of Dylniff)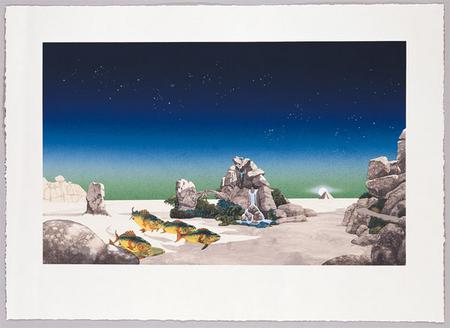 I'm sorry Mark s but even by your standards of contrarier than thou, wouldn't knowingly sign up to any position that might be described in some quarters as orthodoxy (I'm teasing - lol), rehabilitating this is about twenty diplodocus steps too far IMHO.
(And yeh, dinosaurs are nice to look at, - I very nearly wept with delight when I saw Jurassic Park - but, like, I wouldn't want to be one especially... Big, lumbering, top-down machine with tiny brain... yeh that's Really Existing Capitalism alright....)
Anyone who can look at the lettering alone and not simultaneously (a) feel involuntary physical disgust and (b) laugh uproariously, just geddoudda here....
And look look, you gotta check out the Flash sideshows... obv my machine has trouble loading them, but hey that's Prog Tech, nice to see that Rog has moved with the times and made sure even more time and energy is wasted on these progstrosities...
Look, look, the water like moves, man.... cosmic....
And people say Dali was kitsch --- gimme a break ----
Linda Trent tells me that in Lemurian 'Roger Dean' is equivalent in meaning to both the English 'irredeemably naff' and 'anti-sorcerously pernicious'....
How so? Well, speaking personally, it took me years and years of deprogramming (but not by the Kowalsky brothers) to dissociate the concepts of 'sorcery' and 'mysticism' from the nauseating image of white-bearded wizards walking through a windswept airbrushed Deanscape.... No doubt called 'Xantranadon' .... or 'Phalmalmador'...
Hey readers, how about a little creative writing competition? Who can come up with the best story 'inspired' by one of Dean's flash animations?
Mine's going to be called 'In the Caverns of Xilliakanis: The Annunciation of Jezopod Andalyias (Part 1)'....
(By comparison with Dean, most of the covers on the page that Carter McBeath links to [see comments below] are pretty mild stuff; I can cope with all that sunshiney overexposed pyschedelic stuff much more than Dean's nauseatingly hilarious Sword 'n' Sorcery Fantasy lands... but Carter's right, the Gryphon cover does take the biscuit, I mean the airbrush, I mean the Flash animation....)
As Carter says:
'For my money, the Gryphon album is the clear winner here: wise old man playing chess, whilst the killings of inevitably cruel nature take place outside his cloistered quarters. I can't figure out if the old git is supposed to be god (y'know, controlling the paces of our clockwork existence via the astonishing parallel movements of baldy's chessboard - HEAVY!) or maybe he's just cloistered cos he's wise enough to be saddened by the inherent cruelty of clockwork existence, blah blah, et cetera.
Somehow I have the feeling that, back in the salad days of yore, Toney Blur spent many a dazed, glassy-eyed evening with chillum in one hand, Gryphon sleeve in the other - and just FREAKING over the DEPTH of it all and the
FRAGILITY of existence.'
O, and I should make it clear that, in addition to loathing without reservation Star Wars and all its PROGeny, I fucking detest Lord of the twatting Rings too. And no, I haven't wasted time and energy on seeing the films. The arguments people make for seeing them are EXACTLY THE SAME as those kids at school made for seeing Alan Parsons Project and their ilk: 'hey, you might not like the music, but you gotta respect the SHOWMANSHIP and the LIGHTSHOW.'
No I have fucking not.
The Fantasy genre is shit. Categorically.
Posted by mark at September 2, 2004 08:50 AM | TrackBack