From popist to papist and beyond (the pleasure principle)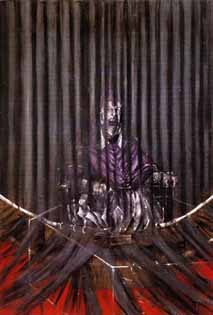 Simon on guilty pleasures. I second Simon's call for a culture of shame. That's what I was trying to get at in the comments thread. Better punk's unfair and unreasonable hatred than Popism's (or Poptimism's) well-adjusted, laissez-faire, anything goes, if it's good it doesn't mattter what category it belongs to eclecticism, or Jools/Q 'respectfulness' and reverence. Both of these attitudes are intrinsically inimical to excitement/ libido, the first because it transcendentally rules it out (the obverse of 'there's good music every year if you look for it' is that there's never anything to get especially excited about), the second because 'respect' kills culture stone-dead.
Punk's broadbrush proscriptions at least meant that disco/funk/long tracks had to be negotiated back in. And, consequently, their re-inclusion meant something; they were't part of some benevolently oppressive nebulae, which saps the intensity and flava from singular cultural break-outs by incorporating them into a blandly de-odorized popist pot pourri.
In any case, the relationship between a Culture of Shame and Guilty Pleasures is a dialectical rather than a straightforwardly oppositional one. Only with an (at least residual) culture of shame in place is it possible to feel any frission of guilt when you sample (what has been designated as) the forbidden. There is something Catholic about this, as Eppy says. But, rather than a lapsed Catholicism, it's a lapse into Catholicism - in which morbid cult, as Eppy establishes, guilt is pleasure, just as much as pleasure is guilty. But this all presupposes the Puritan/ Protestant reformation initiated by punk.
Zizek explains the complicity between pleasure and guilt by adapting one of Kant's examples. In, I think, The Groundwork to the Metaphysic of Morals, Kant refutes the idea that there is sexual compulsion by asking how we might expect someone claiming to be so compelled to act if they were told that they could have the object of all their desires, if only they submitted to being hanged at the gallows immediately after the copulation. Kant takes it as read that the person's alleged compulsion would melt away pretty quickly. But Zizek, ever the Lacanian, says that this ignores the extent to which many need the equivalent of a gallows in order to experience enjoyment. Only when the pleasure is forbidden, or when there is a risk of its leading to punishment, can it be relished.
Of course, there's a whole fascinating unpicking of pleasure (Foucault), desire (Deleuze) and enjoyment (Lacan) to be undertaken. In which spirit, these extraordinarily intimate and revelatory notes by Deleuze on his problems with Foucault's notion of pleasure, are an exceptional resource.

In other news:
Simon, again, on the trend for painter-related blog names. Marcello is of course a consistent performer here: he started off with a painter(Spencer)-related URL (cookham), moved onto a blog named after a painting (naked maja) before setting up his current painter-alluding residence.
And thanks to Rochenko at Smoke Writing for his kind words on the Whitstable post. I didn't know how people would react to that one, but I do enjoy writing about England. (I could imagine myself blissfully writing for the English tourist board).
Posted by mark at July 22, 2004 05:33 PM | TrackBack