THIS ONE HAS IT ALL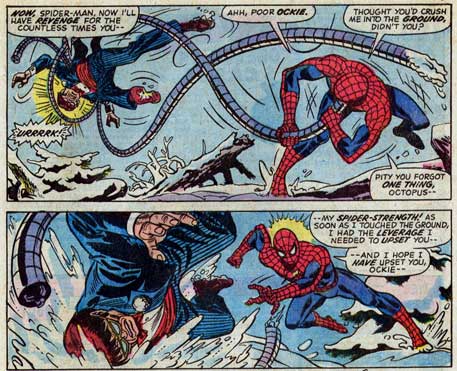 .... as they used to say on the front of Marvel All-Color comics.
But, really, really, this one does.
Romance. Action (that's not Matrix-dull). Humour (that's actually funny). FX (that actually affect). A brilliant cyborg villain (who doesn't white cat about). Fidelity to source material.
SPIDER MAN 2. Do yourselves a favour and see this as soon as possible. It'll remind you of how entrancing and joyous cinema can be.
(I've got to do a 'proper', paying review of this, so I'm going to have to hold myself back a little).
You can trust me on this. Fewer things run deeper in me than Spiderman. I had the comics before I could read. I lived and breathed the mythos and played with the Mego action figures.
It's even better than the first one, and that was the best superhero movie ever made.
HOWEVER:
We all agreed that the trailers for upcoming 'attractions' were just about the worst we've ever seen.
In ascending order of stupefying inanity:
THUNDERBIRDS --- well, you know all about this, but I should lower your expectations even further if I were you . Ben Kingsley white catting about: (rubs chin malevolently) 'But WHO will rescue the rescuers?' Mwhah hah hah!
TWO BROTHERS ---- it's about two tiger siblings. Separated at birth. No, really.
THIRTEEN GOING ON THIRTY --- a thirteen year old girl wakes up one morning to find that, inexplicably, she's THIRTY. With hilarious consequences.
MONKEY TENNIS ----
It left us wondering: what do you have to do to get a script idea rejected in Hollywood these days?
Posted by mark at July 22, 2004 01:09 AM | TrackBack