THE TROUBLE WITH BEING BORN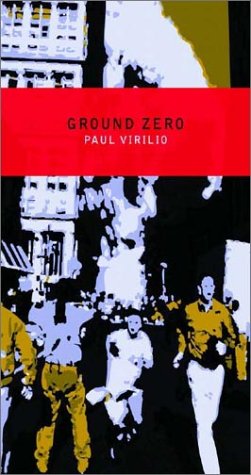 Does anyone understand Paul Virilio?
I've just read Ground Zero, a book which produced my usual response to Virilio's texts. Individual sentences and even paragraphs make sense, but as a whole book, it just doesn't add up. There's no thesis, or at least no thesis that I am capable of detecting. Virilio butterfly leaps from Lenin to Big Brother to Fritz Lang to bio-ethics... Zizek does the same thing, but there's always a readily-identifiable consistency glueing Zizek's diverse concerns together. Not so with Virilio, whose ultimate preoccupations seem to be hermetically veiled. I always feel that there's another text behind the one I'm reading, a text for initiates in which the fragmentary puzzle I'm confronted with is solved.
Art of the motor? Art of the non-sequitur more like...
Contrary to what its title implies, Ground Zero isn't really about 9/11. Rather, it is a generalized complaint against - against what, exactly? Well, it seems to be a Procreationist assault against what he sees as contemporary culture's Gnostic anti-natalism. Virilio's catholicism is strongly in evidence in Ground Zero. He's appalled, for instance, that a French court could award a disabled adolescent damages 'for the harm of being born' whilst the same court ruled that 'the unborn child is not a person.'
Beyond that, I can't get much. Be interested in what others think.
I must say, though, I do heartily approve of these bite-sized theory books. Hmm, look at their shape - where could Verso have got the idea from?

Posted by mark at June 21, 2004 03:49 PM | TrackBack