THEY ARE MODELS AND THEY ARE LOOKING GOOD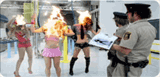 The new Basement Jaxx further enhances what is becoming really quite a promising year for singles.
I think that the Jaxx are masters of the anempathic riff: the riff that comes out of nowhere, remorselessly indifferent to the track it dominates.
The video is also brilliant. It's made by Traktor, the same folk who produced the outstanding 'Where's Your Head At' clip, and it comes off as a cyberotic update of Westworld.
Question: just why are women simulating robots simulating women soooooooo sexy?

Posted by mark at March 31, 2004 05:34 PM | TrackBack