CALLING ALL LONDON CRU (REMINDER)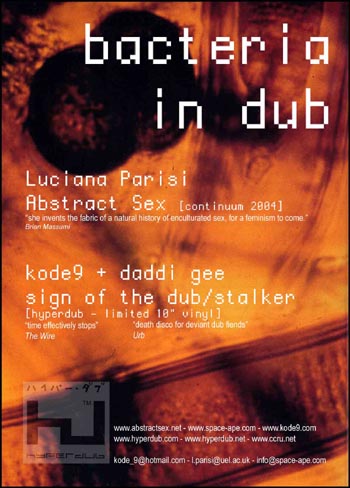 BACTERIA IN DUB will celebrate the co-launch of Luciana Parisi's book
'Abstract Sex: Biodigital Machines and the Mutations of Desire' (Continuum
Press 2004), and the first release on record label Hyperdub, kode9 & daddi
gee's 'Sign of the Dub'/'Stalker'.
BACTERIA IN DUB will feature extracts from the book, versioned by kode9 &
daddi gee, accompanied by video works by Space Ape.
BACTERIA IN DUB will occur between 4 and 7pm, on Saturday the 27th of March
at Plastic People, 147 Curtain Road, Shoreditch, London E1. (nearest tube
Old Street)
Hey you London-based bloggaz, you should all come to this. Matt, Eden, Jim, Oliver - it'd be a great chance to catch up with y'all.
Luke, do you work Saturday?
Posted by mark at March 24, 2004 06:17 PM | TrackBack