KIRBY, ANOTHER GREAT K
Another wonderful post from Nick Gutterbreakz. All kinds of interesting stuff to take up there, but for now, and since Nick mentions Mighty Marvel - this site is my latest FAVOURITE THING EVER. Monsterblog is devoted to the pre-Superhero monster work of the incomparable Jack Kirby. For those who don't know, Kirby was the unsurpassable genius responsible for the first Incredible Hulk and Fantastic Four strips - in other words, one of the greatest visual artists of the twentieth century.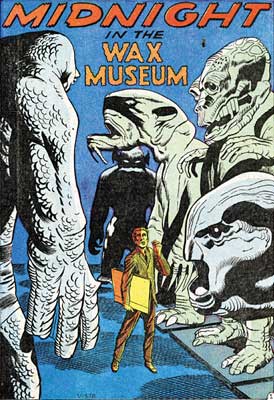 Check the way Kirby almost dispensed with perspective, flattening out everything onto a Bosch-like single plane. Kirby's art was literally awesome: his habitual mode was the cyclopean, the sublimely vast. He conjured enormous machinery, cities of dizzying scale, and most of all, gigantic, lumbering beings, all rendered with an expressionistic crudity.
Monsterblog is a lovingly compiled compendium of Kirby's early strips, some of them never previously reprinted. The 'meet the monsters' page is a stunningly well-researched index of all the monsters, boasting a taxonomy worthy of Borges. 'Alien Conqueror ... Atomic Freak.... Lab Experiment Gone Wild... Subterranean Creature....'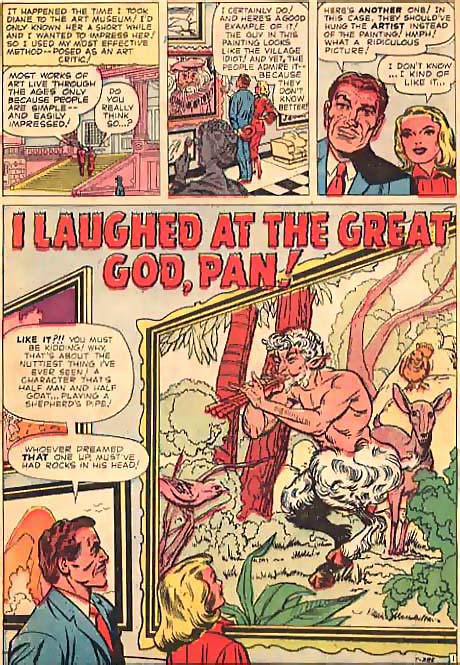 Could THIS be the origin of the line 'I laughed at the Great God Pan' from The Fall's 'Leave the Capital' off Slates?
Posted by mark at March 9, 2004 07:03 PM | TrackBack