COMEDY/ DRAMA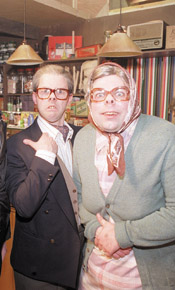 Well, now that the Big Read has wound up - Lord of the Rings the best novel ever, anyone? - the BBC tries the same trick with British situation comedies. The public have been polled about their favourite sitcoms and the Top Fifty, as presented by Jonathan Ross this evening, was a largely predictable run through the usual suspects, interupted by the odd perplexing interloper - the woefully average My Family achieving any sort of placing was distressing enough, but the Vicar of Dibley reaching the top ten (some twenty odd places higher than Hancock and Reggie Perrin) really was a joke, one that Ross couldn't resist a gratifying sneer at. I fully expect Dad's Army , which, like The Two Ronnies, Tommy Cooper, and Laurel and Hardy, I've always found faintly exasperating rather than funny, to win.
Unlike drama, which is dead on British TV these days, comedy is something that television here still does well. The Office, League of Gentlemen (which despite not being a sitcom featured in tonight's rundown), Peep Show, Phoenix Nights... These are comedies as good as anything British TV has ever produced.
A slight caveat. OK, The Office has definitively jumped the shark. Taking Brent out of the office in the Christmas specials destroyed the central conceit and with it much of the humour. The Office went the way of Alan Partridge: what had began as a structural critique ended up as the personal lampooning of one man. Alan Partridge was funny initially not because of Partridge's cluelessness but because such a buffoon was allowed to have a broadcasting career. (And anyone who thinks that the BBC is way too cool and knowing for Partridge-style light entertainment didn't watch the frankly painful Eastenders Christmas Special). In the same way, The Office lost its satiric point once Brent was sacked. Now the target wasn't bosses and office culture but Brent's pathetic absurdity. The setting up Brent as a minor mini-celebrity (who's slipped, lightning quick, from Barely Was to Has Been) was a creditable enough attempt to extract laughs from the grim phenomenon of docusoap micro-fame (witness the scene with Brent on stage with Bubble of Big Brother and that bloke off the Halifax ads), but this kind of meta-awareness is always a sign of senescence.
On Drama by the way. It really is poor, isn't it: the BBC imagining that lavish costumes and period detail will substitute for innovation or, to coin a phrase, relevance, but even at its worst still streets ahead of ITV's lacklustre efforts. There's a curiously un-ITV quality about its showcase Dramas. ITV is usually idiot-TV, monkey-TV, two-second attention span-TV, but when it turns to drama, ITV turns all ponderous and laborious. I did my best to sit through The Mayor of Casterbridge at Christmas, but it was catatonically, body-numbingly slow: as if the all that conspicuous Gloss has hardened and hardened, calcifying everything. And as for those Kemp (Martin and/ or Ross) Drama Specials: they are less like star vehicles than versions of Jacob Marley's chains, money money everywhere, but weighing the productions down rather than liberating them. The fact is, ITV's Drama department has almost no instinct for drama: for pacing, for the simple but elusive art of making you want to know what will happen next.
Posted by mark at January 11, 2004 01:32 AM | TrackBack