NO FUTUREBLEED: KNEALE'S HAUNTOLOGY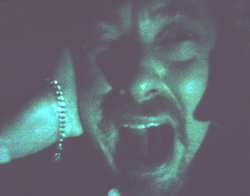 The Kneale Tapes , BBC Four
(Thanx to Michael for the heads up).
The most haunting moments in BBC Four's retromentary on Nigel Kneale were reconstructions of his lost television play The Road.
Like many of Kneale's fictions, The Road was a new twist on the ghost story. All ghost stories are about time travel. In the standard version, of course, they are about the past invading the present; or about the present being captured by the past. The Road cunningly reversed this. Set in 1771, it was about spectres of/ from the future, reverberations from an event yet to occur. The sirens and panicked screams and car noises that disturb the villagers of the eighteenth century were the sounds of people fleeing that which can never be escaped: their own destiny, planetary ground zero, year zero, total nuclear annihilation.
The Road , like much of the BBC's output in those days, was not preserved. There's something awfully poignant about the thought of a ghost story about the future being lost to that very future, like one of the burned films in Auster's Book of Illusions. TV then, everything performed live, flared with the intensity of the modernist moment , attended to in rapt fixation by an audience not yet multi-channel splintered, hanging onto every syllable of a this self-erasing text, because not yet lulled into indifference by the prospect of endless reruns (dramas were not repeated, then, they were restaged, like theatre). No now in Postmodern time; the videocassette, that which is preserved in advance, that which can be watched at any time (and so is never watched) doesn't record television, it transforms it.
Fatality, the lure of total quiescence, the human appetite for (auto)destruction; even before Ballard, Kneale brought Freud to bear on SF. No, not the superego-ego-id (Spock-Kirk-Bones) triad of Star Trek's cuddly psychodrama ; Kneale's Freud was the dark magus of Beyond the Pleasure Principle , the pitiless explorer of the death drive's intensive hydraulics. It's in Beyond the Pleasure Principle that Freud reminds us that, in trauma, time breaks down. No time at all in the unconscious, with its terrible compulsions to repeat, its circuitous journey back to where - and when - it had never left.
What we most want is not to be, never to have been.
What we most are is alien.
Perhaps the most arresting pages in Marcus' Lipstick Traces are devoted to Hammer's version of Kneale's Quatermass and the Pit. As you read Marcus retelling Kneale's masterpiece, you wonder what all this has to do with what Lipstick Traces is supposed to be talking about, whilst knowing, really, that nothing could be more relevant to punk than Kneale's pyschogeologic horror story. Kneale's revelation - that human beings are the by-product of an alien breeding experiment, that deep within us is a Martian, burning with the desire to indiscriminately destroy - others, yes but ultimately, itself - is the uncomfortable punk gnosis.
Kneale's presentiments can be sold as moral warnings, flag-waving for Eros against Thanatos - witness Bernard Quatermass' grim vision of earth becoming 'the Martians' second dead planet', if we do not learn to rein in the Martian within us. Yet Kneale has already deconstructed the opposition between Eros and Thanatos, human and Martian: unravel the human, unravel Eros, and you discover that both are only folds within the body of anorganic Thanatos.
Kneale's SF, like Ballard's disaster novels of the early 60s, is compelled to endlessly rehearse apocalypse, to re-imagine civilization in meltdown. Don't be fooled: the moral messages are what libido (=Thanatos) needs in order to simultaneously mask and show itself. If you are continually repeating something, it's because you want it. Like the rest of us, Kneale can't help desiring London's devastation.
The Quatermass serials of the Fifties and Sixties were too early for me; I've only seen the Hammer film versions. The 1979 return (on ITV) with John Mills was my Quatermass, its images of England in anomie, civil society disintegrating, New Age travellers following leylines leading to their own annihilation (Bomb Culture, oh yes) are now mixed in my mind with those on the covers of the darkheart postpunk LPs. Quatermass brought the implied world of Killing Joke, Cabaret Voltaire and Tubeway Army - apocalypse-graffiti walls, bombed-out buildings, barricaded streets - to unlife.
Unfortunately, I fell asleep during what looked like the excellent Stone Tapes .
I don't suppose it's being repeated is it, Michael?
Posted by mark at October 18, 2003 01:25 AM | TrackBack