The Dulwich Horror
The Dulwich Horror - H.P. Lovecraft and the Crisis in British Housing
An exhibition by Dean Kenning
Launch evening: Friday 27th July 6.30-8.30 2007 All welcome
Exhibition runs: 20th July to Sept 2nd 2007
window exhibition, viewed from the street 24hrs
Closing event: Sept 2nd 4-7pm, performances. All welcome
A limited edition catalogue associated with the exhibition will be available for sale, with a text by John Cussans.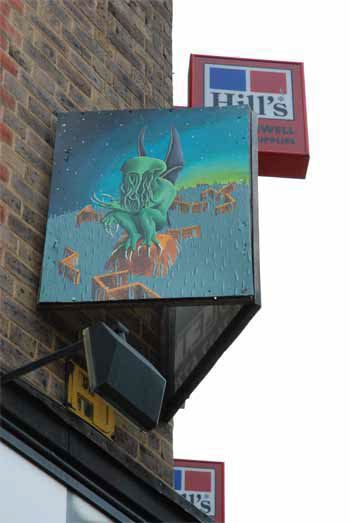 Image : Camberwell Road SE5, CTHULHU by Dean Kenning, in situ.
The outside walls of rented accommodation constitute a vast advertising billboard for Estate Agents. They appear without warning. TO LET, LET BY - they never seem to come down. If you live in rented accommodation, your home has been branded: you are a temporary occupant subject to the authority of the property owner and his agent.

For The Dulwich Horror TO LET signs across London will form the canvas onto which Dean Kenning will paint images representing the supernatural and monstrous entities from H.P.Lovecraft's Cthulhu Mythos. Horrible alien beings such as Yog Sothoth, The Outer Ones, and Great Cthulhu himself are famously beyond description (the sight of such creatures would drive any human over the edge of insanity). Nevertheless, Kenning will have a go.

Posted by mark at July 27, 2007 10:36 AM | TrackBack