on the plaza we're dancing slowly, lit like photographs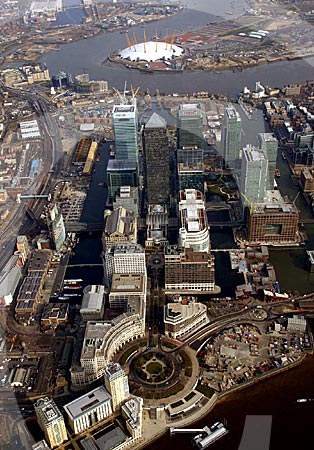 Craner on Canary Wharf. (Permalinks a bit screwed.. scroll down to Wednesday, August 25, 2004 entry....)
In addition to everything else Oliver does so well (the incisive political analysis, the eyes-off-the-road enumeration of the teeming fauna and flora hidden in plain sight of the metropolis, is there a better writer on the slick appeal of Oed-I-pod consumerism and haute couture, of sad-eyed beautiful city girls? Like Baudrillard, Oliver has an innate understanding of the weakening seduction of glamour, of its feminizing allure... (btw Alderman Undercurrent, I blame Oliver for starting the cult of the sublime Nadine... lol) Nothing could be further from the blurry videodrome-fed monkeymatic pornoperception of the Lad (Localised libido Andro-iD) than this ultra-detailed microperceptive poring over - subordination to - the ice-cold unyielding 'serpentine sleekness' mother of pearl 'high brow holy soul shimmering melancholy' of the Masoch/ Ferry Femodel. (And what happens when the Newtonian Model speaks? Why the object becomes a femachine: Grace Jones, the anorganic, anti-oedipal non-neurotic neurobotic body through which all of k-punk passes...)
Of course, Oliver's elegantly turned out Prada and Agent Provacatuer sales assistants, catching moments amidst urban business to smoke and look melancholy-beautiful, are as much a part of the city's wildlife as the cormorants and the herons haunting the Thames...
I made my first visit to London's necropolis of finance with Oliver and Luke a while back... It now forms a rhizome in my psychogeographic map of East London with the nearby Mudchute farm (I was disturbed when I returned a couple of weeks ago with Glueboot to discover that the pigs were absent... though maybe they'd been taken inside coz it was hot - pigs get surnburnt don't they? And there were - though I can hardly believe this myself in retrospect - llamas there that time... And Gb took a photo of a cutely stupid-looking goat...) and Limehouse, whose riverside 'historic pubs' are now a favourite haunt (when Gb and I sat there on a respite from our punitive E London walking regime, a passing boat sent a wave crashing through the open window of the hostelry, drenching the diners and their plates of food as they sat looking out onto the Thames, so Turneresque vast and wide there, its grey whiteness blending with the big sky)... Limehouse, whose steampunk future-past - explored by Ackroyd in Dan Leno and the Limehouse Golem and Dr Who in the Talons of Weng-Chiang (itself intertextually entangled with Sax Rohmer's Fu Manchu mythos [which was also absorbed into the hyperfictional cosmos of Moore's League of Extraordinary Gentlemen])...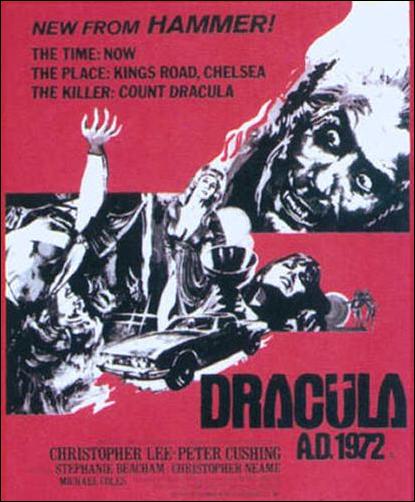 Fitting that the Draculine AD 1985 London version of Gleamprog (Land: postmodern power is vampiric, it's dead but it carries on) should have fed upon the rusting relics of the docks... heronbone: 'i'm worried that there's plans to do away with the sewer banks in this whole troubling stratford city concept. the sewrbanks/greenway is a real sanctuary, a refuge and i love it to bits. i'd hate to see it go. i was reading in the paper a while back about how a lot of the plants you see growing round there are naturalised foreigners, from places as far afield as siberia and sumatra which established themselves when london still had working docks. (which is the most romantic thing i can imagine, ships coming in the dock from all 4 corners of the earth, imainging the men stepping off those boats like odessyeus returned from troy, superheroes with an air of magic about them, eyes which had seen wonders, things perhaps only gods had seen before)'
Blissblog: "There are flows, but there are silt deposits; a sedimentation builds up and takes on a character. The whole history of London and especially East London (hardcore/jungle/UKGís heartland) is bound up with being a port--the East End and the docks, the East End and successive waves of immigration -- Jews, West Indians, East Indians, etc. UKG has this odd combination of insularity and a total open-ness to new influences; Iím sure this must be connected to East Londonís blend of parochialism and hybridity, its ability to assimilate yet retain a fierce local identity. UKG isnít just the sum of all the influences that flow through it. '
That's why Wiley's 'Ground Zero' - the 00's equivalent of Foxx's 1980 London Alphaville elektrokosmetropolis, Metamatic, the blackcockney neurobotic 'claustrophobic-paranoiac' answer to the theatrobotic Euro-expansiveness of Kraftwerk's 'Metropolis' and 'Neon Lights' - always evokes for me not the twisted wreckage of the Twin Towers but the superheated Gleamprog heart of darkness of post-1980s UK-Kapital in the Wharf, where the Futures market endlessly sucks the unlife from Now... 00's Kurtz-Kapital-terminal opening up to an Outside not brought back in great big clipper ships but through the loa-stalked consensus hallucination of k-space...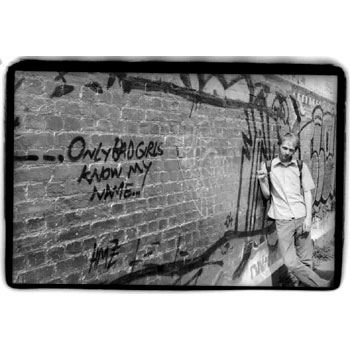 (image stolen from Untimely)
And of course, as Luke is well aware, the Gleamprog fantasy of the London Olympic bid is part of the SF Kapital retro-colonization of London's temporal lines of flight, the uncared for, un-mission-statemented, overgrown, uttunuloid intensive time zones where things can still happen without being business-planned into Kapital's always-deferred super-consummate bad eschatology....
Prog rock never died, it turned into the Millennium Dome... and then London 2012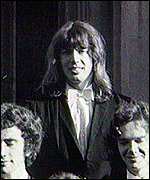 Follow the link, look at Evil Nice Toneee's face..... listen to his platitudes ('Good Writing' Luke lol')
SF Capital, 2001: 'The smooth transition from hippy to hyper-capitalist, from slacker hedonism to authoritarianism, from engagement to entertainment, retrospectively reveals what the punks knew so well when they cackled 'never trust a hippy'. Far from posing any threat to capitalism, the dope-smoking, soap-dodging rockers of the the 60s were acting as capital's reserve army of exploiters, whose time spent at festivals and on the experimental avant-garde did little or nothing to engineer collective lines of escape, but yielded instead resources for the new forms of enslavement that loom everywhere around us now. Exactly like those likely to have 'approved' of Kubrick's critique of corporate-controlled environments in 1968 are now administering their own 'total control' systems, all the more sinister for their shirtsleeves informality, all the more enveloping because the bosses wire themselves into the circuit, flaunting their own self-exploitation as both inevitable and exemplary. As Deleuz-Guattari had it in Anti-Oedipus, 'The bourgeois sets the example, he absorbs surplus value for ends that ... have nothing to do with his own enjoyment: more utterly enslaved than the lowest of slaves, he is the first servant of the ravenous machine, the beast of the reproduction of capital... 'I too am a slave' - these are the new words spoken by the master.'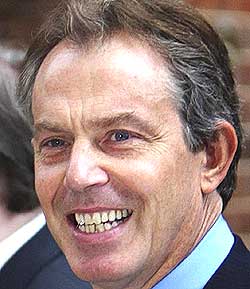 For a chilling image of how SF Capital induces auto-zombification in the master class, you only have to look at the face of our glorious leader: that ashen carnival mask, its grim, cheerless, Joker-grin flashing with ritual efficiency, its blank eyes illuminated by empty evangelism, darkened by perpetual irritation - the PM's being run by Videodrome, and ... no-one owns Death TV.'
They are trying to turn London into a Roger Dean gatefold sleeve.
Don't let it happen.
Oppose the bid.
Death to Videodrome...
Long unlive the Now Flesh...
Posted by mark at September 1, 2004 08:51 AM | TrackBack