Sartre's record collection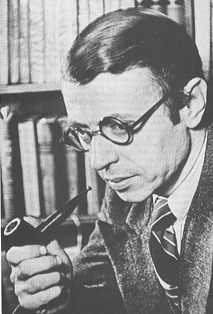 On this chart discussion bubbling up at blissblog and Koons: the quote below from J-P Sartre . It was in the forties, I think, and Sartre had just been to the US and returned to France aghast that such a thing as the record charts existed.
'If he listens to the radio every Saturday and if he can afford to buy
every week's No. 1 record he will end up with the record collection of
the Other, that is to say, the collection of no-one ... Ultimately, the
record collection which is no one's becomes everyone's collection -
though without ceasing to be no one's.'
Sartre was recoiling from horror at the world that Baudrillard - and we - were born into.
Sartre's response is salutary, since it illustrates how strange something that is (for us) taken-for-granted appeared at the time.
As to the charts = market forces. I'm not convinced of this; I think it connects with the markets-anti-markets issue endlessly being debated (and for good reason) within ccru and currently being rehearsed over at hyperstition. The extent to which the charts are gerrymandered now because of domination by a few big players means that they are more of an anti-market than a market IMHO.
Posted by mark at July 30, 2004 11:11 AM | TrackBack