SLATE GREY VICTORIAN SKY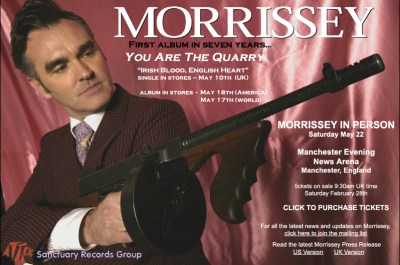 (I suppose all of this is another chapter in the ruinationalist saga started here and here.)
Well, after finally hearing the latest Morrissey album, I have to confess to being surprised at how compelling it is.
It's nowhere near as plodding or cack-handed as the Streets, nor half as conservative and reactionary as Franz Ferdinand (incidentally, of the many irritating aspects of FF's success, the absolute worst has to be their invocation in pieces on established, but older stars: I've seen them mentioned in broadsheet articles on both Mozza and Bryan Ferry, as if, absurdly, the patronage of a footling, forgotten-by-next-Christmas Indie combo somehow confirms the continuing relevance of these abiding icons).
Relevance, yes. Why does Morrissey suddenly seem so relevant in 2004? Perhaps because anxieties about what it is to English have more than usual currency this year, and not only because of all those denunciations of multi-culturalism, the immigration moral panics and the rise of UKIP.
As it happens, it's difficult to imagine Morrissey finding much common cause with UKIP, if only because he is less troubled by EUro-encroachment than by coca-colonization. So there he is, on 'Come Back to Camden', under the cloudless white bright desert sky of LA, pining for the 'slate grey Victorian' skies of North London; there he is, adrift in America's endless franchise coffee bar (which no longer need be in the States of course), longing for a cup of tea that 'tastes of the Thames'.).
Maybe it's possible to imagine that Morrissey is, for once, on the side of the angels in this debate. Perhaps, after all, his vision of a 'time when to be English is not shameful' need not, as I complained previously, refer back in time; it could be an anticipation, and one that, with the displacement of the union jack by the less threatening, less loaded St George's flag, might not be as far-fetched as it might sometimes appeared.
Actually, and perversely, the coincidence of the anti-lad's return with yet another English failure at football has a certain unexpected piquancy. (We should have known that England were doomed to fail this year. The only time they've even approached success in recent years is when the team have gone to a tournament buoyed up by a rousing song – New Order in 90, 'Three Lions' in 96: now if only Morrissey, and not those arch-plodders The Farm – who exhumed them, I wonder? – had done the England song this time.) Yes, Morrissey's love of failure and ineptitude, his hapless, more-than-half-in-love-with sadness, not-quite-able-to-extinguish-hope yearnings, in fact everything Simon identified so long ago in the classic 'Against Health and Efficiency', has everything to do with the version of Englishness to which he cleaves. (The definitive English football song remains – and will probably always remain – 'Three Lions' largely because of the aching, masochistic melancholy it associates with Englishness. Where Lad meets Sad? 'Thirty years of hurt' is of course the key line – but just like Morrissey, the song can't entirely relinquish hope - the next line, remember, is 'never stopped me dreaming.')
English failure and rock have been bound together from the start. In Lipstick On Your Collar Potter tried to bring alive the moment of cultural crisis which Morrissey's whole career has memorialized: the double trauma for England of '56, of rock and roll and Suez, when Presley's tics and twitches made available not only a new pallet of pleasures , but, with them, indissoluble from them, an unassailable American hegemony; and if the future was American, after Suez, England could no longer doubt that it was the past.
This goes some way to accounting for Morrissey's attachment to the wrought-iron, ration-book existentialism of the Fifties, the decade in which the remains of English imperial pride were sucked down the kitchen sink. The post-Beatles Swinging Sixties, when the Beatles had temporarily, misleadingly, restored English confidence; you never find Morrissey there. The cramped, netcurtained, monochrome vignettes he scratches out have their centre of gravity in an England that that never will, nor ever could leave the Fifties, (considering a Sixties cultural moment with an obvious Morrissey association - Billy Liar - will bear this out. Billy's refusal to get on the train is as much a denial of 1960s modernity as it is of the metropolis. I choose not to go = I choose failure and unhappiness = I choose the North = I choose the past.)
Thus Morrissey, the ailing Englishman abroad, the stranded grotesque whose pale skin was not meant to be cooked in the Californian heat, thus Morrissey in 2004, turns his sights first of all, on You are the Quarry, to his adopted homeland. 'America is not the World' doesn't tell us anything we don't know – about Morrissey or about the world. 'You know what you can do with that hamburger': It could hardly be called biting satire, it could hardly be called witty. Yet it's a restatement of intent, and one that finds Morrissey, perhaps as never before, in tune with mainstream opinion. Post Empire, post Iraq, Anti-Americanism has seldom been so fashionable. What makes Morrissey's song more interesting is the, pained ambivalence on which it ends. 'But I love you', he guiltily confesses, as if America is, as it is for most of us, an errant lover we can't castigate enough but which we'll never escape (nor fully want to).
And then 'Irish Blood, English Heart', its companion piece, both bullish and plaintive, Morrissey's latest rallying cry. Let's not confuse Morrissey's calls for a non-baneful Englishness with the BNP's demands for the celebration of St George's Day. Or rather: let's not damn them because there is a certain crossover of aspirations. There's a perfectly good anti-racist argument for allowing English ethnicity to speak its name, after all. The assumptions (expressed sotto voice, but unmistakably there) behind so much multi-culturalism weirdly duplicate those of imperialism: other people have 'cultures'; we are normal. Only if Englishness was allowed to show itself could anglo-WASPishness be 'de-normalised', only then could it cease to be a transcendent judge of difference and take its place amongst the heteroglossic riot of differences. Call me sentimental, but I was heartened, around the time of Euro 2004, to see the amount of young kids, first maybe second generation immigrants, their mothers sometimes in traditional muslim garb, decked out in England football shirts. And no, I'm not celebrating a 'melting pot' in which all differences are subsumed into a bland stew of deracination. What I'm calling for is simply an acknowledgement that dynamic cultures are not static monoliths, but dialogues, ongoing and inexhaustible provide they resist calcification into sterile orthodoxy.
You are the Quarry is musically modest, a kind of generic Morrissey drabGlam that reminds me, on occasions, of Denim. Yet every track has a memorable tune (and there are Smiths' albums about which that couldn't be said). There's nothing new here (imagine how shocked and appalled we'd be if there were). There's definitely a Morrissey trap: Tim does very well in identifying some of its comforting but slowly lethal lineaments.
It's not true, however, as Tim claims, that everything that went wrong with Indie began with Morrissey. Sure, Morrissey was a major player in the retreat from experimentation, in the shift in the meaning of the term Independent' from designating a space, an open potentiality, to it being reduced, in every way, to the diminutive 'Indie', the most drearily formulaic genre in contemporary pop. Yet, unlike The Stone Roses or Oasis, Morrissey dramatized his anachronism; there was no danger of our forgetting that we were sandbagging ourselves up against (post)modernity, retrenching. With the Stone Roses and Oasis, we were obliged to forget this, to pretend that they were urgent, contemporary, unprecedented. The rot really started there.
Posted by mark at July 14, 2004 01:57 PM | TrackBack