WHY THE SHADOWS MATTERED
Or, how Hank Marvin led to Lee Perry (Attention, Paul Meme)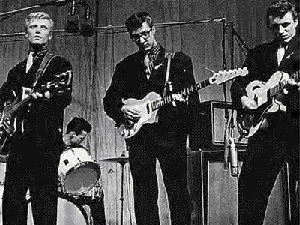 Chris Cutler, File Under Popular: Theoretical and Critical Writings on Music:
'The Shadows exemplified and perfected a form which was to have a far more profound effect on British Rock Music than the song form - this was the Instrumental. ...
In the Instrumental, ... it was, crucially, less the melody than the sound that mattered most. Each tune could have its own 'voice', using stopped or damped strings, echo, the termolo arm, tone filters, different pick-ups, different plectra, electric techniques for making quiet sounds very loud, and so on. For a long time the Instrumental was the field of discovery, and of most amateur group work; the instruments after all had to 'speak for themselves' - and their voices had to be discovered. It had the excitement of a Terra Nova.
Instrumental groups sprouted out of every classroom. The instruments were still easy, the form much more exciting and uncharted than Skiffle, and it was fun. And everybody complained about the noise you made rehearsing and horrible and cacophonous the music was - and if you were lucky you could get to play a wedding or a youth club or a hospital dance.
I have dwelt on this because it seems to me that it laid the foundation of so much to come that was uniquely British. After all, it was the beginning, it was where amongst young people in Britain, there emerged a generation of musicians of a new type. And it has always been glossed by pop historians and 'experts' as a mere tribituary. The internal dynamic was different. In Britain, it was here, in the Instrumental that the hegemony of the electric guitar was established as the voice of Rock music, here that many of the new forms appropriate to electric instruments were mapped, and here that the music was carried deep into non-black and non-American styles by excited, untrained, autodidact teenagers.'
Posted by mark at June 17, 2004 12:04 AM | TrackBack