I MUST GO ON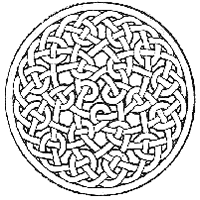 Land: 'Cyberpunk is too wired to concentrate...'
There's been a slightly valedictory air on the blogs of late, prompted by Matt's open-ended vacation, Marcello's announcement of yet another retirement (back soon, but, with any luck, not for the Glass Spider tour) and Simon's recent enforced absence.
Simon and Matt's semi-retirement has had its positive effects, if only to demonstrate the strength and tenacity of the network. I prefer the term 'network' to 'community' for a number of reasons. (The word 'community' always has a sinister, authoritarian taint for me. Have you noticed how it is always mobilized in the pathologically nebulous logic of differentiation at work in the mainstream news media? We hear about the 'black community', the 'gay community'; these groups, unlike 'us', the interpellated normative mass, always have 'leaders' and 'spokesman'. But that's another story...) Some, notably Marcello, have bristled at the notion that they are included in a community. But the very fact that it features hyperlinks (and is linked to) means that Naked Maja is a node in a network.
Simon was such a crucial lynchpin in the formation of the network, yet it's clear now that it is a genuine rhizome (for 'network' read 'rhizome'), no longer requiring a central focus or head. Simon's rep as a writer gave the network its initial 'charismatic seeding', drawing in readers-writers with disparate interests . An example: Oliver and Luka started reading k-punk because of links from Blissblog, both then started reading each other and became involved in the glorious heronbone-worldwarfour becoming that has been so fruitful over the past year.
John is right, naturally, to call for more distribution, less concentration. The internet was founded on this very principle (the military realising that its data network would be more robust if it was instantiated in multiple terminals). Yet I don't recognize the homogeneity John bemoans. All of the blogs I read are wonderfully idiosyncratic (Heronbone, Crumbling Loaf and Erase the World, to name but three, are absolutely unique, unlike anything to be found in print). I must admit, I don't spend much time reading 'review blogs'; what I want from blogs is best provided by those which exploit the form's capacity for digression. What I want from blogs is what I want from culture in general - vision, the co-ordinates for experiencing the world in a (re)newed way.
Also in respect of John's remarks, I think we need to be careful of Oedipalizing the relationship between blogs; of conceiving of certain blogs as 'fathers' whose influence needs to be violently overthrown (a la Harold Bloom's anxiety of influence thesis). The relationship is much more lateral. And in any case, there are new buds emerging on the rhizome all the time: the female philosophy offshoot comprised by Glueboot, Infinite Thought and And So It's Christmas is a particularly welcome new development, for instance.
The pro/amateur thing is a bit of a red herring in my view. There is the same distinction on the blogosphere as there is in the mainstream media: there are hacks and there are writers (just as in the academy, there are academics and intellectuals). The difference is not to do with whether you're remunerated for what you do, but whether you feel a genuine compulsion to produce it, if you experience an obligation to write that goes beyond simply having to pay the bills. One of the interesting things to come out of Marcello's otherwise unedifying hectoring of Dave in the World of Stelfox comments box was the clear message coming from both of them that they don't blog as some sort of compensation for 'failing' to be professional writers. As a matter of fact, both Dave and Marcello are professional writers, even if both also hold day jobs. It's clear, particularly in Marcello's case, that the only space that they can develop ideas at any length or with any idiosyncratic verve is on the internet. The print media is simply too crowded, too hidebound by all sorts of demographic and marketing pressures for anything of much cultural import to occur on it. While I make no bones that I would rather spend more time writing than teaching, what I feel for most music journalists, most of the time, is pity, not envy.
Of course, I still find myself checking prejudices in my assumptions about what counts as 'proper' writing. But what was once my default inclination to regard blog writing as secondary to work that is 'properly published', that has 'permanence', or is 'finished' is increasingly less insistent. The aphoristic, necessarily unfinished nature of the blog text is what separates it from the print form . I have to keep reminding myself of why the blog is called k-punk in the first place, and why Ccru spent so much time theorising the potential of cyberspace. We're living through exciting times, and blogs are part of that, one of the k(yber)-punk cultural developments. As I said in tribute to Luka last year:
"It's not supposed to 'fit together', to finally 'cohere', it's a (dis)assembly kit, it's writing in the aphoristic mode, writing as a part object, an object intrinsically hostile to wholeness, a series of holes in good sense, it's not One...
That way, it is left open...
... a directed outpouring from the unconscious, with its own rules, its own rhythms, its own singularity....
.... And this is what punk is ---- not amateurism, not destruction for its own sake ------ but systematic anti-professionalism ----"
Speaking for myself, for better or worse, I have to write.
So, no, I'm not ready to be torn apart by the primal horde yet. I'm sticking around, and I hope you are too.
Posted by mark at June 15, 2004 07:00 PM | TrackBack