BONFIRE OF THE VANITIES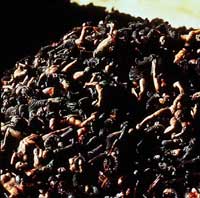 So Jeanette Winterson says that only 'philistines' are celebrating the Saatchi fire. 'The great strength of Brit Art in recent years is that is has forced the debate on what art is and who it is for,' she claims.
Ah, debate. Who was it who said, 'Debate is idiot distraction'?
The sentiments Robin quotes from Deleuze couldn't be more apposite.
"[P]hilosophy has absolutely nothing to do with debate, it's difficult enough just understanding the problem someone's framing and how they're framing it, all you should ever do is explore it, play around with the terms, add something, relate it to something else, never debate it.
Because once one ventures outside what's familiar and reassuring, once one has to invent new concepts for unknown lands…then thinking becomes, as Foucault puts it, 'a perilous act,' a violence whose first victim is oneself."
Or, as Robin himself put it, in connection with I'm a Celebrity Get Me Out of Here: "I have some creeping sense that by being drawn into serious debate about these things one is merely contributing to their reflexive self-image as important cultural beacons. Isn't it a waste of mental energy, for people who have some, to devote it to analysing this stuff?"
The Britart debate, such as it is, was begun and ended with the r.mutt urinal nearly a century ago. Duchamp established once and for all that the object is irrelevant; anything can be a work of art. End of. Or it should have been: instead, we've been subject to ninety years of tedious recapitulation in which the radicality of Duchamp's insight has been garbled. If Duchamp's original gesture was liberatory - 'anything can be art, lose your hang-ups about categorization' - its take-up by his adherents has been relentlessly conservative and restrictive. Now, art can only be 'about art', a boring meta-discourse. The more interesting conclusion to draw from Duchamp's jest was Brian Eno's: that art is less about the object, and everything to do with affect. It is not the art object, but the art experience to which we should pay attention.
But this ability to produce affect shouldn't be confused with the capacity to 'inspire' mindless chit-chat.
A cheap reversal perhaps, but it's Winterson, not the straw men she attacks, who is peddling the worse kind of philistinism. Winterson happily advocates the empty platitude - propagated by Kapital at its most vulgraizing - that art is a kind of PR event. What is important, it seems, is 'that people are talking.' On this definition, art is in nowise different from reality TV.
There's nothing 'perilous' about Emin or Hirst; no hint of 'unknown lands'. The appropriate analogy would be Tarantino; someone who didn't create the taste by which he was judged, but who simply hung onto the coat-tails of previous trailblazers. With the Britartists, as with Tarantino, controversy really means 'controversy': a tried and tested revisting of already exhausted strategies that are just as kneejerk as the response they elicit. Such posturing causes minimum discomfort to the artist, who, in the very moment that they are being vilified (and, naturally, gaining valuable publicity) are already being hailed by self-serving commentators as 'important'.
The point is, worthwhile art may turn out to be controversial, but art that is designed solely with the purpose of producing controversy can never be worthwhile. Winterson's own analogy makes this point consummately. "The informal Constable appreciation society," she writes, "forget that their hero had tomatoes thrown at his pictures, and that they were considered crude daubs by those who complained that Constable did not understand chiaroscuro, and simply laid one primary colour next to another without grading." Unlike the Britart controversocrats, Constable didn't produce his art in order to elicit (yawn!) shock, even if shock, outrage and misunderstandings were by-products of his painting. Constable had what the alleged conceptualists of Britart lack: a unique vision of the world, a set of perceptions that re-engineer the way in which we see. This meant that he could lead taste, pre-empt it; something that the Britartists could never hope to do. It's precisely the 'tomato-throwing' dismissal that has never happened to the cossetted Britartists, who, may well be derided by elements of the public, but who were immediately coddled by a sycophantic art establishment.
All that said, I can't quite go along with Nick Southall or Sean, in part because the fire didn't only consume PoMo tat like Emin and Hirst. There was also serious work by the likes of Paula Rego in there, and the Chapmans categorization as 'Britartists' never seemed to fit. Too much vision, too much affect.
Posted by mark at May 27, 2004 06:47 PM | TrackBack