THOUGHTS INSPIRED BY THE CHAMPIONS LEAGUE FINAL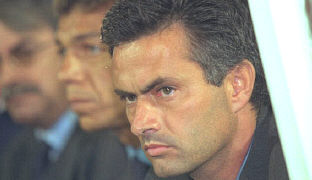 Watching the Champions League Final, it stuck me once again that Jose Mourinho is the most Clough-like manager since the great man himself. It's not only his renowned abrasion and strong will; it's his tactical methods. The discipline and tenacity of Porto's defence tonight, and their capacity for quick, incisive breaks, recalled Clough's Forest teams at their best.
(Of course, the sultry Mourinho is a good deal more dapper and handsome than the raddled Clough ever was.)
All of which is why I predict that, if Mourinho takes on the Chelsea job, it will be a disaster akin to Clough's legendarily ill-starred and brief tenure at Leeds. Like Clough, Mourinho is a master of nurturing young talent and he has made an art out of reconditioning the careers of veterans who, so far as anyone else was concerned, were washed up. Also like Clough, he has limited experience of dealing with pampered playboys accustomed to success. Motivating raw young recruits and those enjoying an improbable Indian Summer in their career is one thing; moulding a disparate group of petulant superstars into a team is another entirely.
Clough was successful at Forest because he was able to dominate the club at every level (much in the way that Ferguson used to be able to preside over United - recent events indicate that this dynasty may be crumbling). As became clear in his press conference yesterday, Mourinho will find himself at odds with everything Roman Abramovich stands for: the (discredited) Real philosophy of headhunting the best-regarded and most expensive players from around the world and then worrying about team-building. Mourinho will simply not be able to rebuild Chelsea in his own image. Much better, if he wants to do that, to go to Liverpool, where he will retain control of transfers, where the biggest players have a homeliness lacking in Chelsea's galaticos and where the fans are hungry for success of any kind.
Posted by mark at May 26, 2004 10:34 PM | TrackBack