ostentatious absenteeism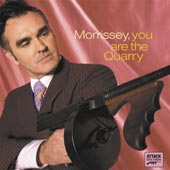 I disagree with Geeta and, as ever, find myself echoing Robin. By his presence alone, Morrissey on Jonathan Ross showed up Now Pop's inability to produce (self-made) mythical characters. Or is that absence? As Simon pointed out back in the day, Morrissey developed a kind of 'ostentatious absenteeism', a perverse 'look at me, I don't want to be here' form of attention-seeking/ repulsion.
On JR he still, absolutely, refused to play the game, refused to step out of role, to relax into Ross's PoMo spree of meta-commentary and lampoonery. Unlike Robin, I do like Ross (he can be forgiven most anything for his wit and his enthusiasm) but he was clearly out of his depth with Morrissey whose gravity and implacable seriousness were unassailable. Both men seemed uncomforable, though Morrissey, painting himself as the misanthrope of legend, on the edge of his nerves (where you suspect he lives most of his life), coiled, reflective, cultivating hatreds and amours fou alike, was at least more used to this painful level of social embarrasment. (Ross's joke about Morrissey becoming his friend quickly shaded into Alan Partridge territory: 'When are you coming round? ... I've got two lambs...')
His solo career amounts to very little, of course, although the new single is compelling enough, and 'The More You Ignore Me, the Closer I Get' is an underrated masterpiece, every bit the equal of his best work with The Smiths, an unflinching vignette of obsessive fixation ('I bear more grudges/ than lonely high court judges'). And his playing of 'Every Day is Like Sunday' reminded you that it is one of THE high watermark moments in Britannia Moribundia ('Trudging slowly over wet sand.... Win yourself a cheap tray'). Its perversity, its Betjeman 'Slough'-esque rage and disgust ('Come armageddon come....') tempered by a grim fascination, a Dubliners-like inertial pull; the o-so English attachment towards that which is ostensibly loathed. (The Joyce comparsion actually an interesting one, since both would remain permanently attached to a homeland they'd eventually live outside of.)
Robin talks of Lynch and that's strangely right: Morrissey in L.A. must be like one of Lynch's ghostly chanteurs, existing in some Lynchian untime, neither of the present nor of the past, never really rock and roll.... I suppose the closest parallel would be Ben, the Dean Stockwell character from Blue Velvet; performer for all those rough trade gangster-types (or perhaps that is Morrissey's dream of what he could be)....
As I watched, I realised that I couldn't remember the last time I'd seen Moz interviewed on television. (Well, it's been, so they said, eighteen years...) Is it me or does he look more handsome than before, his eyes an even brighter, an even steelier, blue than ever? That East End gangster look suits him rather well, I think.

The strange power of media and pop to simulate intimacy....
Morrissey says he doesn't like people, but we all feel, secretly, that he'd like us, don't we?
Posted by mark at May 16, 2004 11:00 PM | TrackBack