RETURN OF DREAMPOP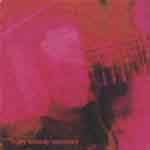 There's was something reassuring about the interview with Kevin Shields in The Guardian on Friday. Shields is the kind of 'pop star' that it seems died out with an earlier era: visionary, tempermental, driven, detached from what we are pleased to call 'reality', or rather occupying his own reality and acting as a conduit, a vessel, through which that alternate reality can invade our own. 'I live so much in my imagination,' Shields told Paul Lester. 'My version of reality is so different ... I don't necessarily connect with things.' Compare Jamelia (whose new single, incidentally, is very good), in the Sunday Times last week: "I do see myself and my career as a product," she says. "So the image that I give to the public is what I want them to think of me. It's sort of being like an advertiser: I've got a product that I need to market." Jamelia's instrumentalism is not itself cynical so much as an adjustment to the kynical reality of kapital. Now Pop is, above all, well-adjusted; it doesn't seek to transfigure the world, offers us no transports of ecstasy or escape. It's not for nothing that hip hop, with its banal ambitions and dreary aspirations, its ostensible ultrarealism, is king in Now Pop. Shields' version of Pop - aptly termed Dreampop, once, of course - dissents from this reality, not in the name of unreality or fantasy, but in the name of libido. Desire can never be persuaded to take the drab world of Work and Wealth at face value. For libido, that world is an unconvincing theatre populated by poorly animated puppets and grim effigies: an existential charade that everyone necessarily occupies only - as Jamelia's comments make clear - as impostors, as play actors. Dreampop has always robbed the World of Necessity of its claim to ontological precedence over the realm of Desire. Jamelia's observations show that Now Pop has reversed this prioritization; Pop is now a colony of the world of Work.
The contestation Dreampop effects has its costs, naturally. To refuse to take the world of Health and Efficiency seriously is to flirt with illness, anhedonia, agoraphobia, (living) death. The symptoms of Shields' 'condition' - getting up in the afternoon, if at all, vegetating in front of the box, doing as little as possible - are all too familiar. "I just didn't do what I didn't want to do. And I got away with it. When you keep on getting away with it year after year, you think you can just live like that. And you can. I wouldn't work. I wouldn't get up till late afternoon. I watched a lot of shit films."
I'm sure I'm not the only one who is glad that Shields is back with us, dreaming for us...

Posted by mark at March 13, 2004 11:20 PM | TrackBack