CAFE CULTURE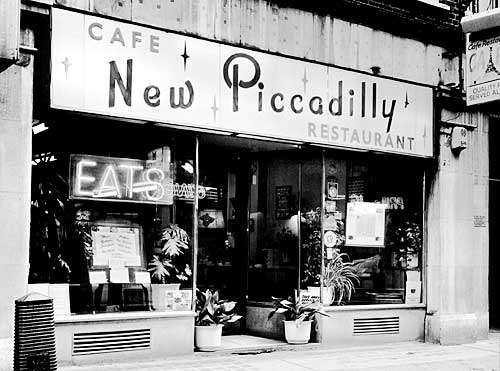 A few connections between recent (or fairly recent) postings. Luka posts a link to DerelictLondon.com. Robin has a link to Classic Cafes.co.uk .
What is it in us that cleaves to the derelict, the deserted, and the dilapidated? It's a very English thing. 'This is where England most truly excels,' notes Adrian Maddox, the proprietor of Classic Cafes.co.uk in his essay-cum-compendium piece, Britannia Moribundia , 'in all the characterful shabbiness of its drizzled parks, soiled launderettes, frayed tailors, abject chemists, sparse barbers, bare foyers, dun pubs, weary Legion halls... and cowed solitary cafes.'
For Julie Burchill, whose Guardian piece on Eastbourne is cited in 'Britannia Moribundia', decline is a cultural weapon against the encroaching, homogenizing pressures of Amerikana. Eastbourne is a place 'where the American takeover seems never to have happened.' Burchill also makes another telling observation. 'Being in Eastbourne was in many ways stranger, more foreign than being abroad - particularly the Caribbean, which in its more profitable enclaves can feel like lodging in a luxury franchise of America.' Actually, this reminds me of one of Momus' questions, posed semi-rhetorically in connection with 'Lost in Translation': "[I]s it possible to be American and foreign? I suspect the answer is 'No.'" If America is turning the whole world into its living room, we're all become accustomed to equating homeliness with Americanness. This homeliness is precisely opposed to any sense of locality. Locality is fraught with anxiety: step into someone's local and you run the risk of being stared at. Step into a Starbucks and you know exactly what you're getting. You enter a routinized, highly predictable environment, impersonal and anonymous, where you won't be noticed. The dubious appeal of these franchises is their easy familiarity: no need to learn the idiolects of consumption, no need to read the specials board. No unpleasant surprises or strange conversations.
The centripetal pull of franchises is immense. I remember walking through central London one Sunday afternoon with Robin and actively trying to avoid going into a franchise coffee bar. You have to walk miles to avoid them. But my impression is that the provinces have been much worse hit by creeping franchization than has London. At least London is variegated enough to have a seedy underbelly of greasy spoons (as celebrated in Classic Cafes). I'm betting that there is very little alternative to franchises in the average provincial town now. Maddox is surely right. Caffs, with their vernacular architecture, are a part of British culture that is being allowed to be eliminated with scarcely any resistance. And the best thing is, this appeal to British culture doesn't conceal some reactionary agenda to do with anglo-saxon purity. Caffs are examples of immigrant culture, hotch-potch assemblages, defiantly non-organic, racially mixed.
Dilapidation, derelict London, we love to wander in these little Stalker-like scurf zones of underdevelopment, to escape the crushing sense of Now. Aspiration, hygiene, focus: we want somewhere to flee from this Amerika of the soul. Dereliction of duty. Robin, I think, puts his finger on the nature of this 'nostalgia' when writing in a slightly different connection. 'Itís not so much a nostalgia as in a longing to return, as an enjoyment of the texture of loss, decay, and imperfect preservation...' That is to say, we don't hunger for the time when these caffs, these ruins and rust-heaps, were shiny-new. We savour their decay, the gentle rot.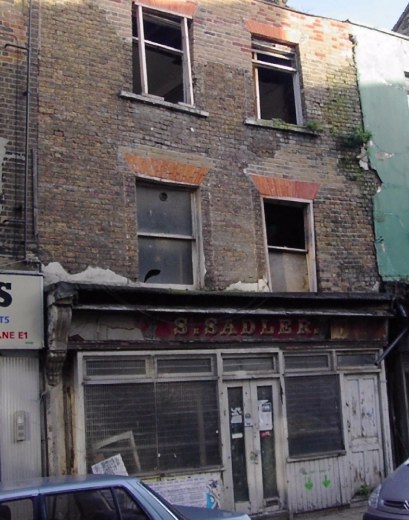 More on this soon.

Posted by mark at February 19, 2004 02:18 AM | TrackBack