IMAGINATION NEVER LETS US TAKE THE BLAME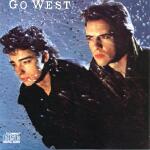 Blimey! Nick Gutterbreakz defends Go West !
To be fair, Nick's is a dispassionate and interesting reappraisal of a record he liked at the time.
But I must admit, if there's a record which sums up more or less everything I hate about the eighties, it would be 'We Close Our Eyes.' Oddly enough, it's essentially for the same reasons that Nick makes (half) a case for it. i.e. the 'BIG, noisey synth sound, HUGE drums, a weird lyric and ... strong vocal...' It's all so BIG....
And in the mid-eighties, snths started to sound horrible. Not like synths any more, but like surrogate brass sections, and Go West were pioneers of this naturalization of electronics. I can only make the comparison again with Gabriel's 'Sledgehammer', which to me, typifies this: like Go West, it's at once completely, clunkily artificial and cloyingly 'soulful.'
And the video, the video: 'We Close Your Eyes' seemed to be on the Chart Show every week for a year, a sign of how functional and quotidian pop had become. The fact that 'Peter Cox looked completely at odds with the 'expected' pop star image - wearing a tatty vest, wielding a giant spanner and covered in what looked like axle-grease' was part of what I detested about them. They were a symbol of a new, deglammed Pop star: the 'ordinary bloke'. Marcello talks about them as being the first generation not influenced by punk; I think that punk itself could be construed as a moment in Glam, and Go West - and That Video - represented the end of Glam. Pop stars were no longer required to be strange, beguiling and otherwordly.
Nick asks: 'why is it okay to like Hall & Oates now, but not Go West?' The crass answer is that Hall and Oates made good records, whereas Go West were shit. I personally don't see any but the most vaguely generic comparison with H and O - yeh, Go West were rock-soul, but I like Hall and Oates in spite of that. At their best, Hall and Oates had at least two things Go West didn't: funk and nuance. Everything is clumsily up Front, BIG, with Go West. There are shadows in H and O: whereas Go West are like having a bright light shined directly into your eyes. All that said, Go West certainly sounded American. That's another of the features I hold them in contempt for. Postpunk pop had an anglo-specificity that the likes of Go West eliminated. They remind me of the sort of records you'd hear on Paul Gambacini's Hot 100 rundown of the American charts on Saturday afternoon; an experience I always associate with trudging around shoe shops for some reason. I remember quailing in horror at the American charts in those days. The banality.... Imagine if our Pop was like that, I shivered. Go West ensured that it was.
I fear that Nick's final defence of GW will raise the hackles of Popists everywhere. It's exactly the kind of thing which irritates the likes of Angus G! 'At least they wrote their own songs and played a few instruments,' Nick writes, 'which is more than can be said for many of today's fame-for-fame's sake teeny-poppers. Marcello opines that Go West were the first of a new breed untainted by Punk. I would suggest that they were actually the (fag) end of the Creative Teen-Pop era - that period facilited by punk lasting roughly 1979-85 when pin-up chart acts wrote and performed their own material.' To the universal disgust of Popists, I think Nick has something here. It's not just about 'playing your own instruments', though, it's about people being able to realise their own vision, and not being puppets of the likes of Simon Fuller and Simon Cowell. (Why is their not a more audio-friendly word for 'vision' by the way?) It seems to me irrelevant whether people actually play on their records, but that they, rather than some cynical projected demographic, are the agent of the process is important.
Incidentally, shouldn't we seriously be thinking about a 'third way' beyond Popism and Rockism?
Posted by mark at January 29, 2004 11:26 PM | TrackBack