IRONY AND AWE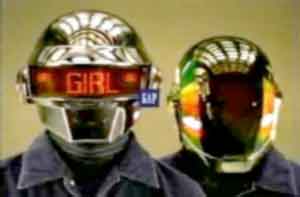 In his round-up of 2003 round-ups, Angus wondered out loud as to why I'd included the Richard X album in my highlights of 2003. Isn't this everything k-punk should hate, he asked? Surely Richard X is the kind of self-conscious meta-pop I'm pledged to destroy?
Well, I included Richard X in the same section as I included The Rapture: as a guilty pleasure. How could I resist an album that is so shot through with the spirit (and sound) of 79-82? There's a paradoxical nostalgia for lost futures that is part of the k-punk aesthetic. (See nostalgia post below.)
Jameson identifies 'the nostalgia mode' as a defining component of the postmodern. This is nostalgia as form more than content: his examples are Star Wars and Body Heat, films which revived an earlier mode without being explicitly revivalist. (Star Wars revived the adventure serials of the Thirties, while Body Heat, despite having a contemporary setting, revived the Film Noirs of the Forties.)
Richard X represents a postmodernist modernism, or modernist postmodernism, in which what is revived is modernism's very hunger for novelty itself. The Numan and Human League which Richard X retools and refits were the last gasps of modernism in Pop, before the spiralling temporality (nothing is new, everything is forgiven) of PoMo clicked in.
All of which brings to mind Simon's (relatively) recent comments (inspired by rant against Daft Punk *) on the possibility of irony and awe co-existing.
The strange thing is, I'd never thought of Daft Punk as especially detached. I'd assumed almost the opposite: that it was genuine enthusiasm for Supertramp, 10cc, ELO and Wings that inspired them into breaking ranks with accepted taste and simulating their sound on Discovery.
I wonder if there's something about electronic music which lends itself to producing this problematic, though? The original awe-inspiring ironists would be Kraftwerk, they who made detachment into an art form, yet whose sound was gleamingly awe-some. Two other examples: The Pet Shop Boys (eyebrows raised but achingly melancholic) and Yello (aristocratically detached, but capable of swooning majesty).
*And what a rant: 'isn't this the music of shoreditch twats, the Face, those mindless 'i love the 80s' programmes, jamie theakston, asymmetric haircuts worn with a pursed lipped sense of superiority, the shift from ecstacy to cocaine, from inclusivity to exclusivity, new labour, silver and white restaurants, the shift from pubs to bars, the rise of the word 'lifestyle', jimmy carr, that way of speaking so that you're voice goes up at the end so that you can't show enthusiasm for, or commitment to, anything, yeah?, fun-killing dress code policies for nominally 'punk' clubs [hello kashpoint], mini-scooters, kids in designer clothes instead of stuff their grans knitted for them, the rise of the word 'designer', the ubiquity of ciabatta, coffee tables, art-school mullets, childrens tv presenters in iron maiden t-shirts, the chapman brothers and so on and on. you get the idea.'
Love it! But I do like Jimmy Carr.
And if ciabatta is ubiquitous, all well and good, as far as I am concerned.

Posted by mark at January 18, 2004 05:13 PM | TrackBack