At this point I propose to leave the dark and dismal subject
of the traumatic neurosis and pass on to examine the method
of working employed by the mental apparatus in one of its
earliest normal activities‹I mean in children's play. - Beyond the Pleasure Principle .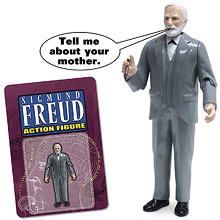 i know this because yesterday, in a gift shop, one sighted a child's doll that was actually a Sigmund Freud ACTION FIGURE. there is not much left.
I've got one of those ! Got it for my birthday! (Thanks, Rob!)
I want a Jung figure for it to beat up...
Posted by mark at October 18, 2003 06:19 PM | TrackBack